The International Transgender Day of Visibility takes place on March 31. This day should be used to empower the trans* community, create awareness for trans* topics and draw attention to existing discriminatory structures. We would like to contribute again this year to achieve more visibility for t* in LGBT*IQ.
To kick off the event, we held a panel on March 29th with the topic "trans* at work – existing difficulties & discrimination-free transitions". Together with our panelists Julia Monro and Andrea Schuler, we mainly talked about stressful situations that trans* people can find themselves in during their transition. We illuminated these negative moments, let trans* people speak with their individual experiences in order to make existing discriminatory structures visible. It is important for us to present this side as well, in order to see and work out where there is room for improvement for companies and the responsible parties – and thus for the trans* people concerned. This way, mistakes can be avoided in the future, allowing more trans* people to look back on their transition in their company with positive feelings.
Panelists:
Julia Monro
Julia supports the German Society for Transidentity and Intersexuality e.v. in public relations and offers counseling for transgender people. In 2018, she founded her own project called Transkids and offers workshops at schools as a lecturer of the Pädagogisches Landesinstitut. She is involved in the trans* community to improve the living situation of transgender people and reports, among other things, from her own biography of experiences of discrimination in society and the world of work.
Andrea Schuler
Andrea Schuler's area of expertise is the impact of gender diversity in social and professional contexts. After completing her Bachelor of Arts in Management of Social Innovations, Andrea was involved in the ERASMUS+ project Transvisible on the labor market integration of trans* people for the German Trans* Association. There, she collaborated on the publication TransVisible – A Guide for Better Labor Integration and Economic Empowerment of Trans* Women, among others. Andrea works as a psychosocial counselor at the Trans*Inter*Beratungsstelle München.
In the panel, the two experts asked the following question, among others.
"HOW CAN EMPLOYERS POSITION THEMSELVES TO MAKE TRANSITIONS GO WELL?"
Julia Monro, FREELANCE JOURNALIST AND TRANS* ACTIVIST
"Enormously important is the orientation to the person themselves, i.e. they set the pace and the direction. This additionally conveys appreciation and respects self-determined decisions, which increases satisfaction and loyalty."
Andrea Schuler, CONSULTANT AND TRAINER, TRANSINTERCOUNSELING CENTER
"Many trans* people leave the company before they transition. So it's incredibly important that a company sets the framework in advance for a good, shared, safe transition."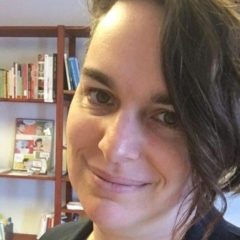 n addition, in order to show examples of how a good and joint transition can work in the company, besides the existing difficulties, we asked trans* people the following question.
"WHAT HELPED YOU THE MOST IN A PROFESSIONAL CONTEXT DURING TRANSITION?"
Alice Oehninger, BIOLOGY LABORATORY TECHNICIAN TRAINER, BOEHRINGER INGELHEIM
"The uncomplicated change of form of address and e-mail, etc., even before my official name change helped me immensely. My colleagues have always addressed me correctly from the beginning. Their trust and flexibility have strengthened me enormously."
Adrian Hausner, Site Reliability Engineer, Google Germany GmbH
"I was especially helped by the 'Trans at Google' network. Having a community like that behind you is immensely empowering, and the fact that discrimination against trans* people is absolutely not accepted, plus the ability to use gender-neutral restrooms. That's also very important for non-binary colleagues."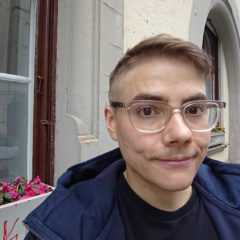 Leonora Friese, Business Consultant, AXA Konzern AG
"During my coming out and transition, I benefited especially from the support I received from HR. For example, by informing the workforce with an interview in the employee newspaper, a panel discussion on DiversityDay and a video about me and my work in the Group. Together we also developed a guideline on coming out and transition, so that we can continue to support other people in the future."
THE PERSON QUOTED WISHES TO REMAIN ANONYMOUS
"As a non-out, non-intersex non-binary trans* person, I would experience a great relief if my employer recognized and supported my gender identity – even if the registry offices do not. For me, this includes in particular firmly established offers to use my self-chosen first name wherever it is legally possible – e.g. in daily interactions, in e-mail addresses, on door signs, etc."
Joschua Thuir, HEAD OF TEACHING GROUP | SPECIALIST TEACHER FOR LAW AND ADMINISTRATION, FEDERAL POLICE FORCE
"I was very happy to be able to fall back on an official contact person who is also trans* before my outing at the workplace. Since she had already gained outing experience in the authority and shared it with me, I was well prepared for negative reactions, indiscreet questions and other unpleasant situations."
Franka Uhlig, BUSINESS INFORMATICS SPECIALIST, IBM GERMANY GMBH
"After coming out, I immediately received positive signals from my management and HR. Particularly helpful was the support in changing my name in the online systems, on my employee ID card and on my mail address, so that I could quickly ensure my appearance as a woman in the company and to customers."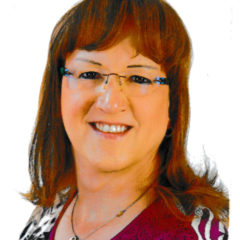 What can help me as a trans* person in a professional context? What counseling centers are there that I can turn to? Besides answers to these questions, we also offer an excerpt of possibilities that companies have to accompany a transition well. In addition, there are further tips for trans* persons and on the question of how you can be an Ally by supporting colleagues in transition.
FURTHER TIPS FOR TRANS* PEOPLE
The people quoting already offer some insight into support options. Here at a glance is an excerpt on further assistance:
Seek allies and role models within the company.
If possible, work with the company to create a communication and action plan.
Very important: You set the pace!
Connect with the LGBTIQ network, if one exists. We have compiled a list of LGBTIQ networks in companies and organizations.
TIPS FOR COMPANIES AND ALLIES
A Transition Guide clearly specifies who is responsible. Note: the trans* person determines the pace and whether an action should be implemented. Every transition is individual.
Enable name and pronoun changes before the official decision is made.
Training sensitize HR and management
Establish and strengthen an internal LGBTIQ network with dedicated trans contact persons
Inform yourself about the topic trans*
Use gender inclusive language, ask for a person's pronouns so they use the one chosen by the trans* person and not their deadname. Deadname is the old, discarded name of a trans* person.
Only ask questions that you would answer yourself
Consciously stand up for the rights and against the discrimination of trans* persons
ADVISORY SERVICES (GErmany)
FEDERAL TRANS* ASSOCIATION
"The Bundesverband Trans* (BVT) sees itself as a union of individuals, groups, associations, federations and initiatives at regional, state and national level whose common endeavor is the commitment to gender diversity and self-determination and the commitment to human rights in terms of respect, recognition, equality, social participation and health of trans people or those not located in the binary gender system."
GERMAN SOCIETY FOR TRANSIDENTITY AND INTERSEXUALITY E.V.
"The dgti has set itself the goal of promoting the acceptance of transidents within society and counteracting their stigmatization. It should advise and support affected and interested persons, if so desired. An essential aspect of the work should be the (re-)integration of affected people into the work process, in order to counteract the danger of social decline, which is still associated with social change today. It advocates more openness to one's own identity and takes into account the diversity of human existence."
Transmann e.V.
"Nationwide, volunteer-based, non-profit association for all woman-to-male (FzM/FtM) trans* and inter* people."
TransInterQueer e.V.
"TrIQ is a social center and a politically, culturally and in the research field active association, which stands up for trans, intersex and queer living people in Berlin and beyond."
TRANS*INTER*COUNSELING CENTER
"The project of the Münchner Aids-Hilfe e.V. is equally there for trans* and inter* people as well as their relatives and friends."
TGEU
"TGEU is a membership-based organization that was founded in 2005. Since then, TGEU has grown steadily and established itself as a legitimate voice for the trans* community in Europe and Central Asia, with 157 member organizations in 47 different countries."
Questions?
Contact us with questions and concerns about trans* in the workplace! We are happy to help.