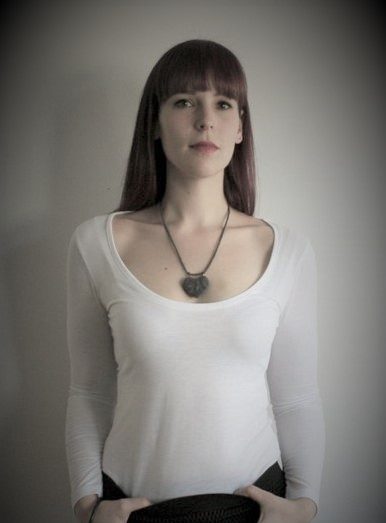 A talk with… Katharina Reimann
"It feels like I come out on a recurring basis, because many people think, "Oh, she's just going through a lesbian or heterosexual or whatever phase"
Katharina Reimann is a self-employed goldsmith. After stints in Hamburg, Hanau and Trier she now lives and works in Vienna. Not long ago she decided to go it alone and, together with a jewellery designer friend, opened her own workshop.
You identify as a bisexual woman – what does that mean to you?
Katharina Reimann: Perhaps I wouldn't describe myself as bisexual so much as maybe even pansexual? That's because to me, sexual attraction is person-specific, not gender-specific. I've known this from a very early age, and have communicated it without feeling any shame.
Tell us about how you came out.
Katharina Reimann: It feels like I come out on a recurring basis, because many people think, "Oh, she's just going through a lesbian or heterosexual or whatever phase", just because they happen to run into me in the company of a person they think of as male or female. That's why I have to keep explaining my sexual orientation. Sometimes I think that for the people I see on a regular basis to "believe" my sexual orientation, I'd have to have a polyamorous relationship with at least two trans* people, a cis woman and a heterosexual cis man.
"What I frequently encounter in everyday life is the cliché of infidelity."
What kind of questions and clichés with regard to bisexual people come your way in everyday life?
Katharina Reimann: What I frequently encounter in everyday life is the cliché of infidelity. Since I supposedly have more options theoretically (another cliché I hate), many people think I'm fickle and more likely to cheat. What I also get a lot is people saying I'm only with women because it turns men on… "Really?!", I think to myself. That's just nonsense. Sadly, I don't get a lot of questions. I'd rather be asked questions than repeatedly have to defend myself against prejudices.
So far, what actual experiences have you had after coming out as a bisexual woman in the workplace?
Katharina Reimann: I've worked for a living in many different environments, and my experience has been that in academia and in the arts, sexual orientation has little to no relevance. But in my side job in the restaurant industry I've never come out, because I've experienced and seen a lot of sexual intrusiveness in that sector, and never felt safe.
"Create safe spaces for yourselves, get involved in a network, for example."
What's your advice to people who are about to come out (in the workplace)?
Katharina Reimann: Since I've only ever come out in situations in which I felt comfortable and safe and that I was being taken seriously, even though I'm generally a very open person, I would say: create safe spaces for yourselves, get involved in a network, for example. Check out what anti-discrimination structures there are in your company. How much about your private life do you reveal to your colleagues? What are your needs? Do you need professional support, for example? Do you perhaps want to work to actively change the social structure of your workplace? Knowing the answers to these questions often helps you to make good decisions for yourself.
In your opinion, what can and should companies do to raise the visibility of LGBTIQ topics in the workplace?
Katharina Reimann: Generally speaking, companies should pay attention to social interaction. Offer continuing education courses that strengthen the community. Refuse to allow any kind of discrimination. Harassment or discrimination or malicious gossip against colleagues should be grounds for termination, and that should be openly communicated. Equal opportunities officers should be the rule and should have far-reaching veto rights. Generally, sexualised violence in the workplace should also be addressed and, hopefully, eliminated some day. That's my hope for an ideal world…
Many thanks for talking to us, Katharina.