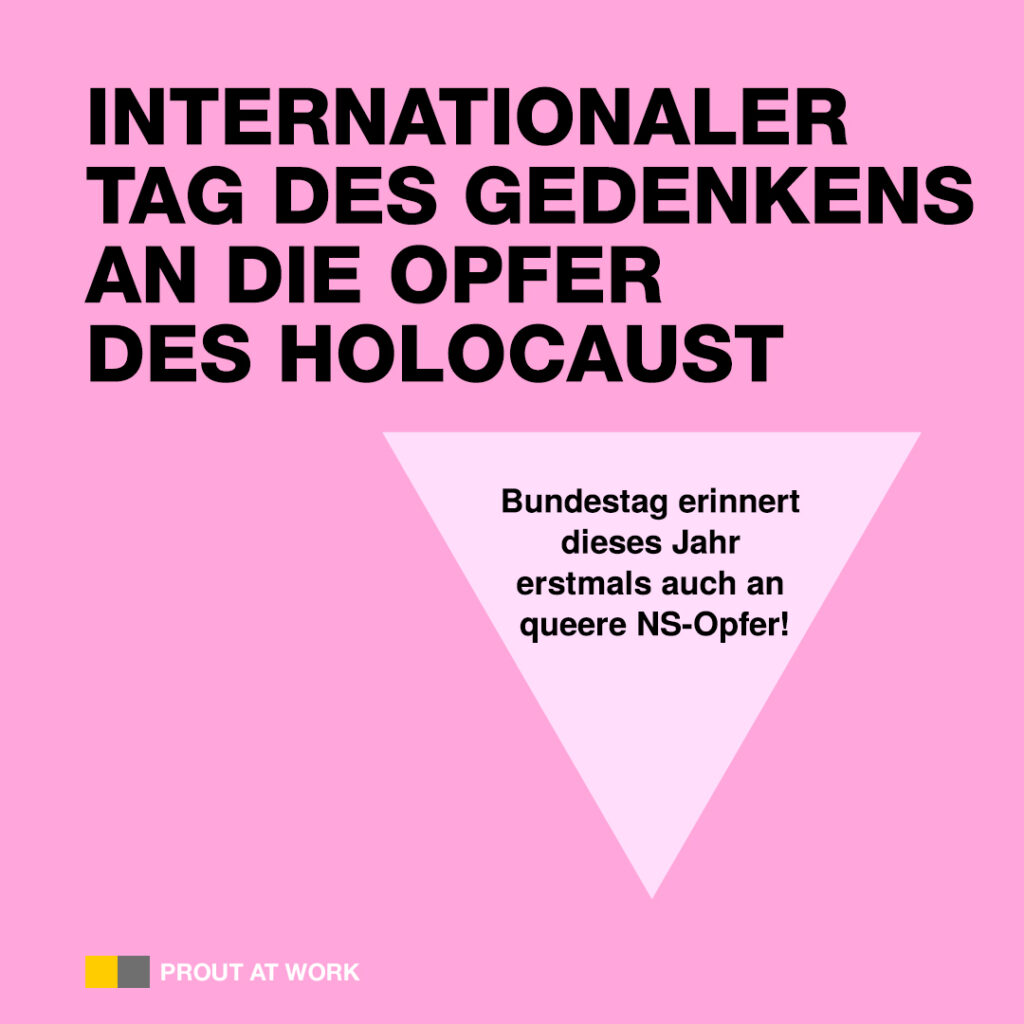 Today is World Holocaust Memorial Day!

We commemorate the victims of National Socialism and its inhuman atrocities. In the deadly ideology of the Nazis there was no place for people who did not correspond to their image of man. They were consistently persecuted, imprisoned, deported to concentration camps and murdered en masse. The organized genocide of European Jews, the Shoah, and of Sintize and Romnja, the Porajmos, was a unique breach of civilization in history. The Day of Remembrance of the Victims of the Holocaust is celebrated on January 27, the anniversary of the liberation of the Auschwitz-Birkenau concentration camp.
Among those persecuted under National Socialism were also queer people. They were also imprisoned by the Nazis and murdered in concentration camps. An estimated 78,000 gay and bisexual men were identified and 15,000 deported during the Nazi era. 53,000 were convicted between 1933 and 1945. Lesbian women were not granted sexual self-determination – they were persecuted and imprisoned as "asocials." Trans* persons were persecuted under the same categories. The estimated number of LGBTIQ victims of the Nazi regime is high and many people do not know that homosexual and trans people were also murdered in the concentration camps.
This year, for the first time, the German Bundestag is focusing on queer victims of National Socialism during the hour of remembrance on January 27. As a foundation that advocates for LGBTIQ people in the workplace and their rights, we welcome this novelty. Especially because the struggle for rights and protections under the law for LGBTIQ people can be far from over.

For example, Paragraph 175, which legitimized the persecution and imprisonment of homosexual people in the Nazi regime, was adopted by the Federal Republic after the end of the war. In the FRG and the GDR, homosexuals continued to be persecuted on this basis for decades. Homosexuality has not been punishable in the reunified Federal Republic until 1994.

More information on the situation of queer people in the NS
Moving critical Masses
Let's take action together to advance LGBT*IQ issues.