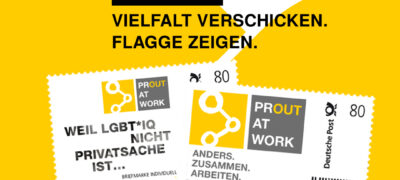 Products
Vielfalt verschicken. Flagge zeigen.
LGBT*IQ concerns everyone, including senders and addressees.
With the new PROUT AT WORK stamps, you can not only make a statement, but also support our foundation at the same time, as we charge a small surcharge for our charitable work in addition to the postage.
or each stamp, we charge a surcharge of 40 or 55 cents, which goes directly to projects to fulfill our charitable purpose.
Our foundation advocates where discrimination against LGBT*IQ people begins.
Every penny helps in our fight for more equal opportunities for LGBTIQ people in the workplace!
Your contributions supports us
in our work against homophobia, biophobia, and transphobia,
in our outreach to businesses and organizations, and
in funding participant contributions from people who cannot afford our offerings.
Five designs, one goal
Five different layouts make your mailing more diverse and colorful. Each stamp a statement on the LGBT*IQ issue – become a multiplier:
Motiv 1: Weil LGBT*IQ nicht privatsache ist… (Because LGBT*IQ is not a private matter….)
Everyone should be able to freely tell with whom they share their lives, even in the workplace. Only when people do not have to hide, they can develop their full potential.
Motiv 2: Sprechen Sie lgbt*iq? (Do you speak lgbt*iq?)
SOLD OUT!
Language is powerful – it shapes our perception and reality. So including everyone linguistically is worthwhile for everyone: it creates new opportunities to exploit potential, creates chances, and shapes our reality.
Motiv 3: love me gender…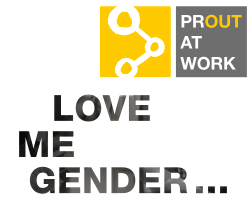 Because gender roles are still far too often and automatically divided into male and female, we need openness, vision and awareness of actual gender diversity.
Motiv 4: LGBT* with iq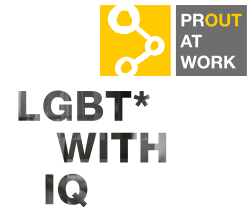 Instead of pinkwashing, companies are more successful when they launch well-thought-out LGBT*IQ initiatives – internally and externally.
Motiv 5: anders. zusammen. arbeiten. (WORK. DIFFERENT. TOGETHER.)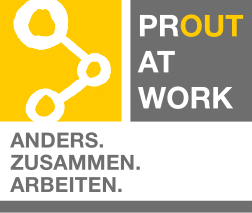 The PROUT AT WORK Foundation creates a visible, tangible and tangible public of LGBT*IQ in the workplace. This is how LGBT*IQ equal opportunities become a matter of course, how they become part of everyday life, how talents and energies can be fully exploited. Everyone benefits from this openness: people and companies, society and the economy.
Our postage plus
10 self-adhesive stamps per motif in blocks of 10:
Per motif block with postage value á 80 cents, 8.00 Euro plus 4.00 Euro for the good cause = 12 Euro
Per motif block with postage á 155 Cent, 15,50 Euro plus 5,50 Euro for the good cause = 21 Euro
Order now