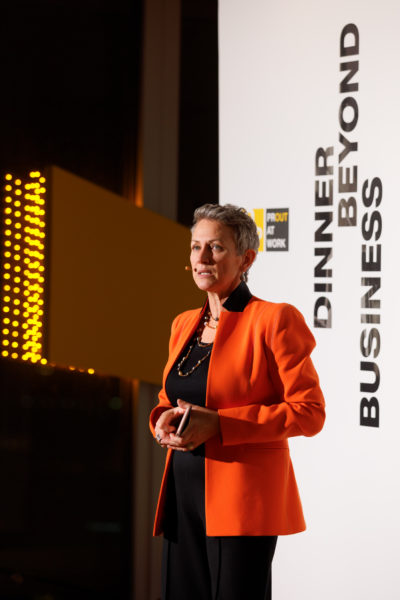 Inga Beale
"Trying to change something is always better than just letting it be".
This maxime from Inga Beale not just represents a business principle, but is also the formula for success when it comes to inclusive and welcoming people management. In 2014 – after 327 years of company history – Beale was the first woman at the top of the insurance and reinsurance company Lloyd's of London. She opposed the corporate environment that had been shaped by straight white men, and created a culture that is inclusive and welcomes members from the LGBT*IQ community. At the 2019 dinner night of the PROUT AT WORK foundation she talked about corporate responsibility and how companies can change societies for the better.
For the fourth time, the PROUT AT WORK Foundation invited senior executives from major German and international enterprises and institutions as well as the auditing firm Ernst & Young for their joint DINNER BEYOND BUSINESS in Düsseldorf. Attendees included representatives from Metro AG Continental, BASF, Boehringer Ingelheim, RWE, Google, UniCredit Bank, Nestlé, OTTO, thyssenkrupp, KPMG, Commerzbank and IBM.
The high-profile company representatives enjoyed the view over the Rhine from the GAP15 skyscraper in Düsseldorf while having a first-class dinner in a casual ambience and listening to the inspiring talk from Lloyd's director Inga Beale.
"Taunts" are defined as the exchange of teasing comments. This is also how the lyrics of fan songs of the football team of Brighton & Hove Albion, South England, are referred to. However, these lyrics are really homophobic. Brighton is considered to be particularly tolerant of LGBT*IQ, and that's why many people choose to live there. Calling these lyrics "taunts" is just an excuse for people to say things they should not say – with this statement Beale started her dinner talk.
"When there were such songs in the 2013/14 football season, some fans and also some of the filmmakers and police officers found them funny. But for others, they were scary and offensive."
That was five years ago. "Today, of course, it's better," says Beale and winks to the audience. She receives ironic laughter – because everyone knows that not much has changed since then.
"The same thing happened again in a match against Brighton this month, although a referee in France had just interrupted a football match because of a homophobic banner in the fan block," Beale says.
Of course, it is usually just the minority of the fans standing out with such homophobic slogans. "But it's often the same minority that also spreads racist slogans, and makes the majority of visitors feel uncomfortable – although they actually love being in the stadium, because they are interested in the competition and the sport, regardless of whether any of the players might be gay.
Nevertheless, there is still no active gay football player in the UK. "Why come out if it does not bring anything?," asks Inga Beale, the question haunting many gay sportsmen.
Similarities in sports and business
Beale does not start her talk with a soccer story by chance: How athletes are treated in sports competitions really represents how employees are treated in the competitive business world. "Is acceptance and inclusivity in business actually better than in sports?"
For Inga Beale, who began her career in 1982 as an underwriter for international reinsurance at the London-based Prudential Assurance Company, answering such questions is not all about gut feeling. It's about numbers and facts. As a member of the Stonewall's Development Council she has access to data that is regularly being collected on equality and inclusion in international working life. So, of course, Beale refers to some statistics:
"Two thirds of LGBT*IQ are convinced that there is homophobia in sports, and 70 percent of football supporters have experienced discrimination. At the same time, 18 percent were confronted with negative comments from colleagues at work. About a third of them therefore hide their sexual orientation or gender identity."
Although Beale led the OUTstanding list of the top LGBT*IQ business personalities last October and was first on the Financial Times top 100 queer executives list in 2015, she also had to deal with such negative experiences at the beginning of her career.
"When I was in my twenties, I almost left my company. I was disillusioned." For many years she tried to hide herself, kept distance and even told her longtime partner not to call her at work so she would not come out inadvertently. In 2008, she took her fate into her own hands and came out. "Leading two parallel lives made me sick." This was like a heavy burden falling off her shoulders.
Dare to change
In 2014, Inga Beale was appointed as the first female CEO at Lloyd's and became the main driver for creating a culture of diversity and inclusion in the international insurance industry.
In 2015, for example, she launched the Dive-In Festival as a global initiative to promote diversity in this industry. The goal of this event is to give employees the opportunity to tap into their full potential and, at the same time, show decision-makers the business case for looking beyond the traditional definition of diversity.
Since then, the three-day festival in September has been a platform for contemplation and conversations around gender, age, cultural background, sexual orientation, social mobility, beliefs, caring responsibilities, mental health, and physical constraints related to talent development and professional growth.
The truth is: "People who are afraid can never give their best," says Inga Beale as it turns dark over Düsseldorf in front of the windows of the E & Y floor. Creating an inclusive work environment should therefore not only be a top priority for every executive, but for all employees.
Those who consistently pursue this goal can also change a huge sector like the insurance industry within only 5 years towards being significantly inclusive and LGBT*IQ welcoming.
"I was the first CEO at Lloyd's that talked about LGBT*IQ. Before there has always been a lack of women and everyone was white. People started to giggle when I used the word "lesbian", for example. But I kept doing that until my staff used those words themselves and later started their own networks." And Beale goes even further: What works in one of the most important international economic sectors can also be transferred to national societal structures.
"If global companies that operate in countries where there's discriminations against lesbians, gays and transgender people would strongly commit to inclusion and acceptance, they could change the core of societies even there," Beale closed her speech.