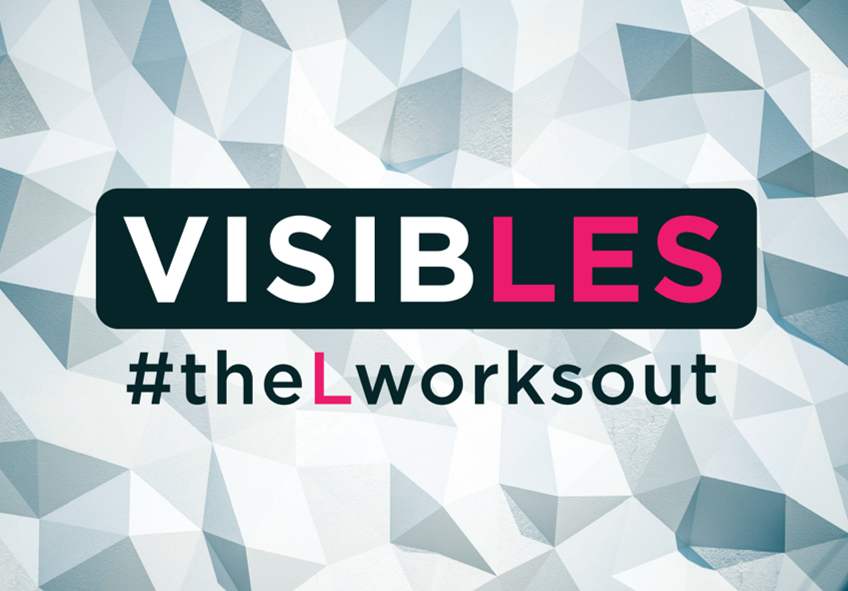 Campaign: #theLworksout for this years` Lesbian Visibility Day
Lesbian persons and Bi*sexual Women are often overlooked due to Lesbian Invisibility. To this day, there are very few visible lesbian role models-especially in a business related context. In many Networks, lesbian persons are a minority. Hence, important role models for younger colleagues aren´t guaranteed. With the Network- and Branch-encompassing campaign #theLworksout on the 26. of April, we can strenghten openly Lesbian Persons and, together with a wide spectrum of atendees, improve Visibility and point out the Diversity of Lesbian Persons.
How can i join the campaign?
Inform yourself and speak to lesbian persons both inside your Network and outside, to raise awareness for the campaign.
Take a portrait photo, orienting yourself on our examples, with your Tablet. It doesn´t matter if it is printed or digital. You´re welcome to use shades of grey instead of color for your portrait. (Make sure you´re allowed to use the logo of your company with your employer. If not, you may also use the company name, or hand your photo in without it.)
Post your own campaign-photo on 26. of April 2023 at 10:00 AM, including the hashtags and taggings of your primary Social Media Channels.
Hashtags
#theLworksout
#LesbianVisibilityDay
#LesbianVisibility
#LesbischeSichtbarkeit
#LGBTIQBusinessLadies
#ProutAtWork
#LGBTIQRoleModels
#FlaggeFürVielfalt
Taggings
PROUT AT WORK
Facebook: @PrOut@Work
Instagram: @proutatwork
LinkedIn: @PROUT AT WORK-Foundation
Twitter: @proutatwork
If wanted, your own Company
Position your company as a supporter of the campaign and for Lesbian Visibility, and animate employees to take part.
This campaign was initiated by the PROUT AT WORK-Foundation and LGBT*IQ business-networks.
Tips for lesbian persons:
A Lesbian Coming out can still be tied to discrimination and hardships. If it helps you,
look for Allies / Role Models in the company.
network with the LGBT*IQ-network.
look for support in dealing with discrimination and ill-fitting comments.
always remember: You pick the time and place for your Coming Out.
Tips for companies:
create sensibility for unconscious bias
create clear expectation profiles
anonymize applying for jobs
Build/Strenghten internal LGBT*IQ-Networks
More information to the listed points can be found in the study "The L-Word in Business", which deals with the situation of lesbian women in a work environment-with tips for employers.
TIps for Allies
Inform yourself about lesbian topics.
Use gender-inclusive language.
Do not fetishize lesbian relationships.
Stand up for the rights and against discrimination of Lesbian People. For example support the action nodoption, which works against the adoption of stepchildren and for the acception of Parentage in Rainbow Families.
Counseling:
Lesbenberatung Berlin
The "Lesbenberatung" is an open place for women, girls, Trans* and Inter* in different life situations. 
LesMigras
LesMigraS is a branch of the "Lesbenberatung" Berlin e.V. that deals with discrimination and violence.
Letra
"LeTRa" stands for Lesben(T)Raum and is a place for meeting, counseling and event location for lesbian persons.
LIBS – Lesben Informations- und Beratungsstelle e.V.
LIBS e.V. is a psychosocial counseling office and with a goal of working against the reasons and follow up effects of discrimination against lesbian and bisexual women.
Regenbogenfamilien München
The Counseling Office in Munich works with rainbow Families to better the living conditions for them, and fight discrimination against them.
Rosa Strippe
The "Verein Rosa Strippe" is specialized on personal and individual problems of Lesbian, Gay, Bisexual, Trans* and Inter* persons, and offers help with their problems.
We´re looking forward to your appliance!
More questions? Just contact us in our office!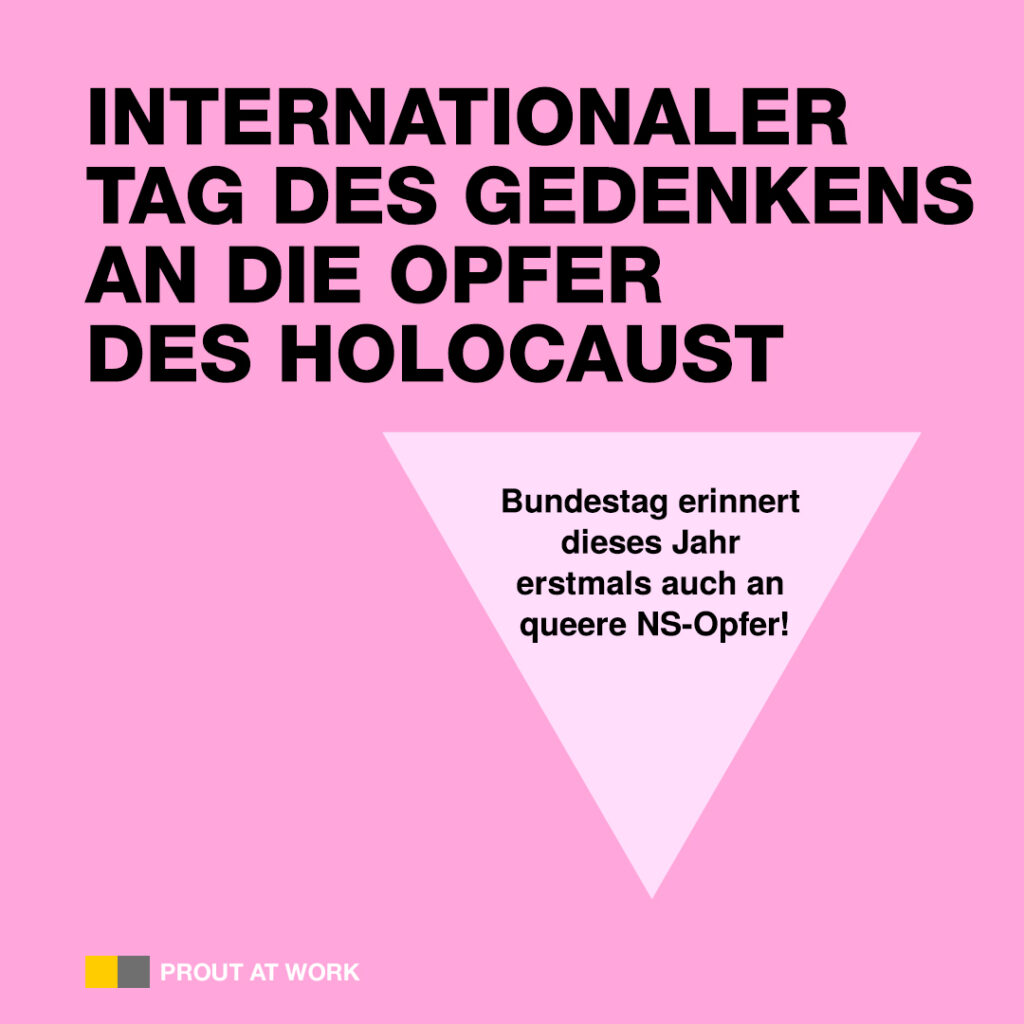 Today is World Holocaust Memorial Day!

We commemorate the victims of National Socialism and its inhuman atrocities. In the deadly ideology of the Nazis there was no place for people who did not correspond to their image of man. They were consistently persecuted, imprisoned, deported to concentration camps and murdered en masse. The organized genocide of European Jews, the Shoah, and of Sintize and Romnja, the Porajmos, was a unique breach of civilization in history. The Day of Remembrance of the Victims of the Holocaust is celebrated on January 27, the anniversary of the liberation of the Auschwitz-Birkenau concentration camp.
Among those persecuted under National Socialism were also queer people. They were also imprisoned by the Nazis and murdered in concentration camps. An estimated 78,000 gay and bisexual men were identified and 15,000 deported during the Nazi era. 53,000 were convicted between 1933 and 1945. Lesbian women were not granted sexual self-determination – they were persecuted and imprisoned as "asocials." Trans* persons were persecuted under the same categories. The estimated number of LGBTIQ victims of the Nazi regime is high and many people do not know that homosexual and trans people were also murdered in the concentration camps.
This year, for the first time, the German Bundestag is focusing on queer victims of National Socialism during the hour of remembrance on January 27. As a foundation that advocates for LGBTIQ people in the workplace and their rights, we welcome this novelty. Especially because the struggle for rights and protections under the law for LGBTIQ people can be far from over.

For example, Paragraph 175, which legitimized the persecution and imprisonment of homosexual people in the Nazi regime, was adopted by the Federal Republic after the end of the war. In the FRG and the GDR, homosexuals continued to be persecuted on this basis for decades. Homosexuality has not been punishable in the reunified Federal Republic until 1994.

More information on the situation of queer people in the NS
Moving critical Masses
Let's take action together to advance LGBT*IQ issues.
Update on blood donation: According to current reports, a further step against discrimination against gay and bisexual men and trans* people will be taken from April 1, 2023 and a provision from the current coalition agreement will be fulfilled. Currently, there is a four-month provision period for "people with sexual risk behavior."

The new regulation would require the Federal Medical Association by law to work with the Paul Ehrlich Institute within four months to adjust the guidelines to eliminate the four-month deferral period for gay and bisexual men and trans* people due to sexual contact with more than one person. Karl Lauterbach, the Federal Minister of Health, said: "Blood donation is a matter of risk behavior, not sexual orientation. There must be no hidden discrimination on this issue either." With this, Lauterbach makes it clear that the deferral from blood donation is an outdated, discriminatory concept and that the risk behavior (in this case frequently changing sexual partners*) of all people should be valued equally.
But what is it actually about? Read more about the topic on our website.
Moving critical Masses
Let's take action together to advance LGBT*IQ issues.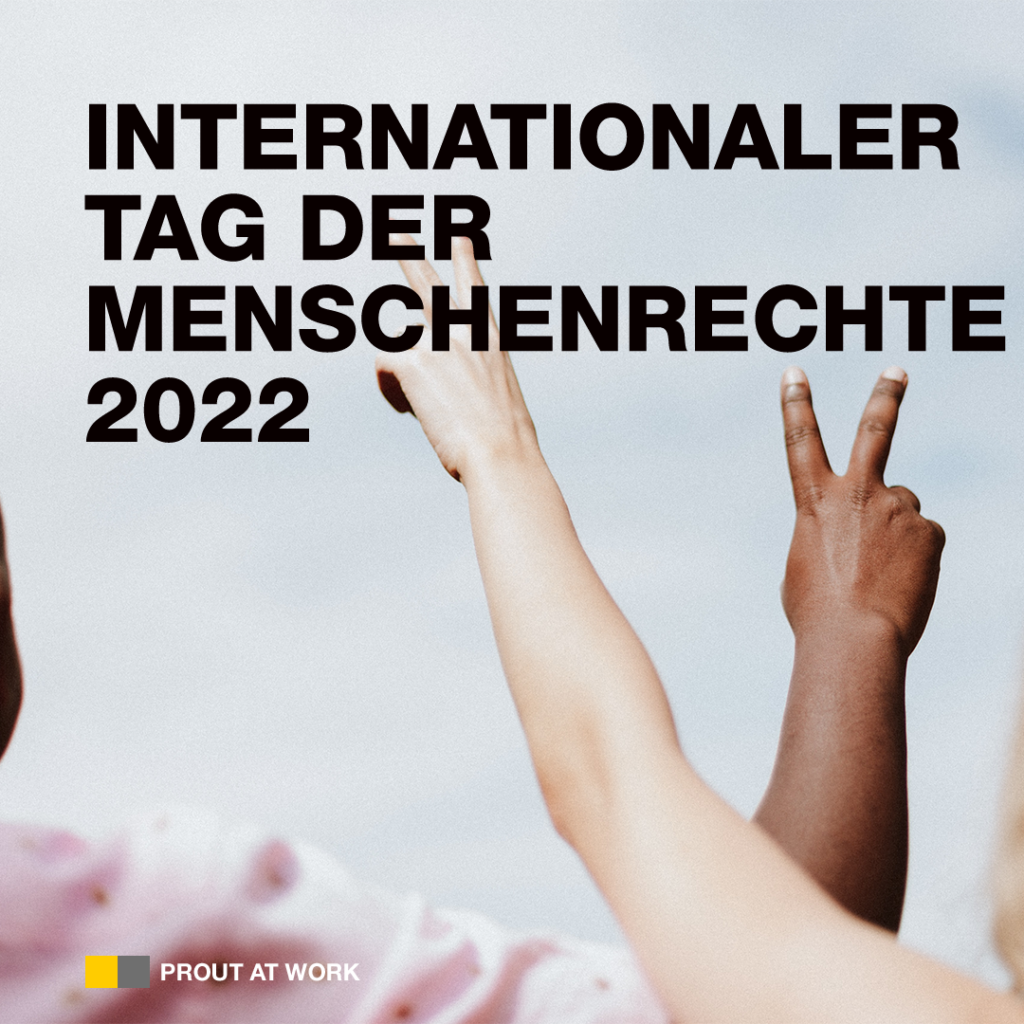 International Human Rights Day is a commemorative day that takes place annually on December 10 and will reach its 75th anniversary next year. In 1948, the United Nations General Assembly agreed on a Universal Declaration of Human Rights, which was signed by 48 countries.
After the end of the Nazi regime and the horrors of World War II, the aim was to create a comprehensive basis for a worldwide understanding in which all people are equal.
The International Declaration of Human Rights in one click (German):
At the heart of this declaration is the universal validity of fundamental rights that every human being has from birth and that are independent of origin, gender, religion, worldview, culture or other affiliations.
The principles laid down include, for example, the right to life, liberty and security, a ban on slavery and torture, freedom of thought, belief and expression, the right to education, work, health and many others, such as the right to citizenship and political participation.
For the first time in history, rights were formulated that should apply equally to every human being. Nevertheless, the Universal Declaration of Human Rights is not binding under international law. It is true that many states (such as the Federal Republic of Germany) have decided to base their constitutions on human rights and thus make them legally binding in part. However, there is no globally valid obligation, e.g. even beyond the United Nations, to observe human rights, nor are there any bodies that could guarantee enforcement.
Especially against this background, the International Human Rights Day is an important moment to remind that these universal rights are far from being universally enforced. Human rights are perhaps the most important yardstick and basis for creating a democratic world in which all people are equal before the state, the law and their fellow human beings. Therefore, we as a foundation also make it clear that our issue, equal opportunities for LGBT*IQ in the (working) world, must be understood as an issue of human rights and human dignity. We join this year's slogan of the International Human Rights Day and stand up for
"Dignity, Freedom, and Justice for All"!
You can find information on this year's slogan and International Human Rights Day at United Nations:
Moving critical Masses
Let's take action together to advance LGBT*IQ issues.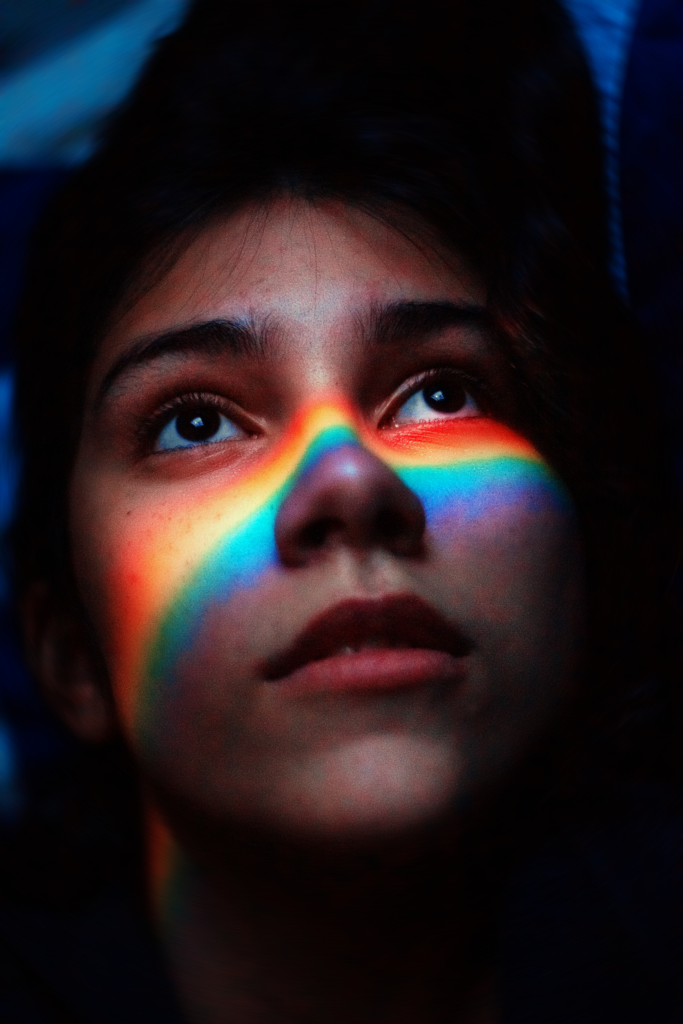 October 19 is International Pronouns Day!
Individual Pronouns are strongly interlaced with the identity and selfgovernment of LGBT*IQ-people. Especially people, who do not strictly experience their gender in a binary sense of male/female, but may identify as genderfluid or nonbinary, use pronouns to express their gender, as not to be judged by their looks, or be misgendered.
In some cases, neopronouns are preferred (for example dey/dem), in other cases no pronouns are used at all, instead their name is used.
Pronouns can help get rid of biases about a persons gender, and they create diversity in the community.
Many people in the LGBT*IQ-Community use them to take a stand against solely binary understanding of gender, and to feel safe and happy with their own identity.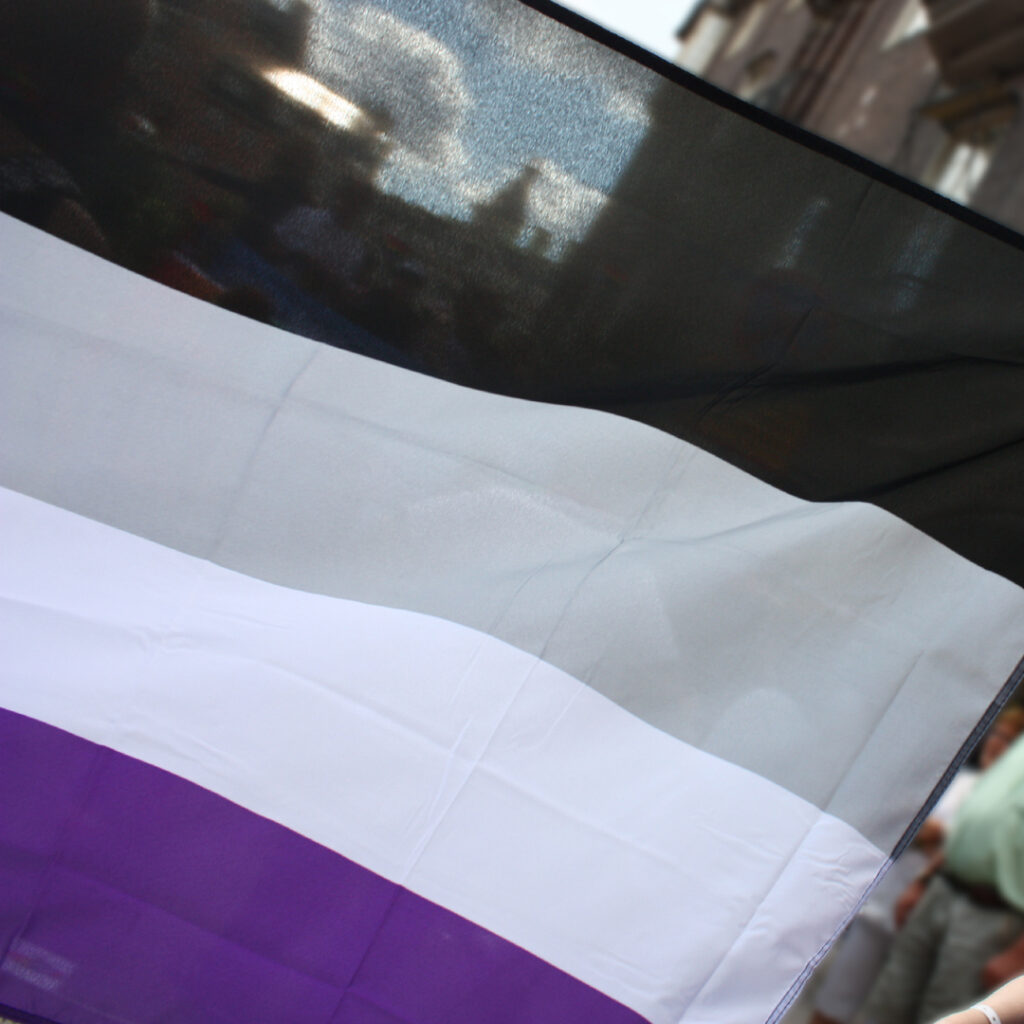 Ace Week (formerly known as Asexual Awareness Week) is celebrated on the last week of October every year since it was founded in 2010. This year it falls on the week of the 24-30. of October. It exists to make asexuality visible and to give asexual people the possibility to air their experiences.
The word "asexual" is derived from the latin prefix "a" or "ab", meaning "none" or "without", and hints at very little or no sexual attraction to others and/or themselves.
Asexuality is not connected to the celibate. that means asexual people don´t actively decide not to have sex due to religious or other reasons. despite being asexual, asexual people can still have sex due veried reasons.
This fact differenciates asexuality from antisexuality, where even the idea of sexual acts is rejected. additionally, asexuality doesnt relate to repressed sexuality or fear. Ace people simply dont feel a desire towards sex. Estimates put around 1% of humanity in the asexuality spectrum.
The symbolism behind the Asexuality flag:
• Black stands for asexuality
• Greysymbolizes the asexual spectrum
• white represents sexuality
• purple stands for community
The symbolism behind the Aromantic flag:
• Dark and light green represent the aromantic spectrum
• white symbolizes platonic relationships
• Grey and black stand for the asexual spectrum
Intersex Awareness Day was founded in 1998 and takes place on the 26. of Oktober every year. This day is supposed to raise awareness for the Inter* sex community, and shed light on their struggles, discrimination and everyday issues. It is derived from the latin prefix "inter" which means "in between".
Intersex is a term to describe every person with biological assets (chromosomal, gonodal, hormonal, anatomical) that have more than only male or female significance. in some cases, intersexual assets might be visible at birth, in other cases theyre not visible until puberty. some hormonal or chromosomal variations might not be visible at all.
Intersex is a term to describe every person with biological assets (chromosomal, gonodal, hormonal, anatomical) that have more than only male or female significance. in some cases, intersexual assets might be visible at birth, in other cases theyre not visible until puberty. some hormonal or chromosomal variations might not be visible at all.
Intersexuality exists in many different ways, cause beside the "standard" sets of chromosomes XX and XY, there are still more ways ( for example XXY) for the chromosomal attributes of a person. there is no "right" way to be Intersex. Intersexuality is due to biological attributes, and differentiates from sexual- and gender identity.
A big step towards freedom and self-decided lives for Intersex people was achieved in 2021, with a new law that forbids genital surgery on Intersex children.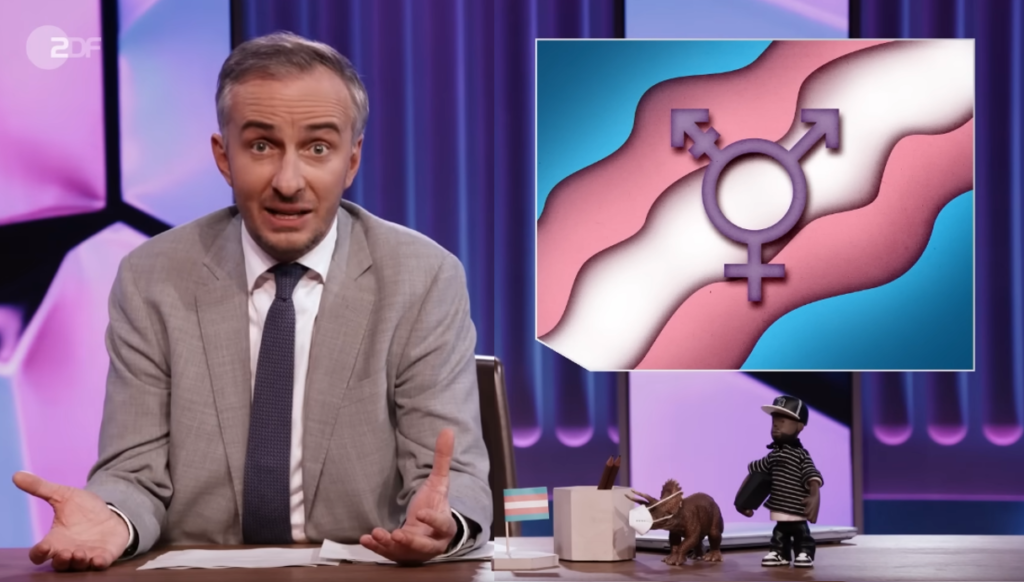 Equal rights for all?
In ZDF Magazin Royale, Jan Böhmermann settled accounts with trans* hostility and gave trans* people a voice. This is primarily about the right of free development for all, which is engrained in the German Basic Law (cf. Art. 2 GG). For the free development of identity, however, trans* persons still have to fight hard, because according to the currently valid "Transsexuellengesetz" they still have to undergo strongly degrading and discriminating procedures to adapt their civil status to their gender identity. As soon as next year, the 40 year old "Transsexuellengesetz" will be replaced by the new self-determination law. Some politicians and TERFS (trans excluding radical feminsits) want to prevent this by all means and thus deny trans* persons their own gender identity and restrict their free development.
" being trans is not fashion – but trans-hostility is"
He particularly takes aim at Alice Schwarzer, editor-in-chief of the magazine Emma, who calls trans* existence a "fashion"-statement. Böhmermann also presents AfD politician Beatrice von Storch and her trans-hostile propaganda-which downright denies the existence of trans people-in his show and explains what is really behind it. The satirist provides insights into the structures and power influences behind trans* hostile actors and campaigns. These are often entire networks and influential personalities. They include, for example, two oligarchs who work together with the Russian president and have invested around 188 million dollars in European anti-gender or anti-trans* campaigns up to 2018, or the American "Alliance Defending Freedom" (ADF), which has so far invested 23 million dollars in trans* hostile campaigns and commercials. Here, typical trans* hostile arguments are often used.
"Violence against women usually doesn't happen in the women's locker room, it happens at home"
In his show, Böhmermann debunks the typical arguments against trans* people and addresses the self-determination law that was passed. Thus, he argues against the "intrusion of trans* women into women's shelters" and the "exploitation of the women's quota" by addressing the violence against women that mostly takes place in one's own home and not in the public locker room. Against the exploitation of the women's quota by trans* women, the satirist argues that people would have it much easier with the "men's quota" anyway, so for what reason should one change the personal status? The presenter also debunks the often-used argument of biological sex by showing that there are more than just two biological sexes.
Trans* hostility is an everyday evil of our society, which is not only strongly discriminatory and wants to deny people their identity, but also violates the Basic Law. Everyone should be able to live out their own identity at any time and in any place without restriction and without fear of negative consequences and violence. If you would like to help your trans* colleagues to live a discrimination-free everyday life also at the workplace, we recommend our free HOW TO guide on the topic of trans* and transition at the workplace.
MORE TIPS FOR TRANS* PEOPLE
Here at a glance is an excerpt on further assistance:
Seek allies and role models within the company.
If possible, work with the company to create a communication and action plan.
Very important: You set the pace!
Network with the LGBTIQ network, if one exists. We have compiled a list of LGBTIQ networks in companies and organizations.
TIPS FOR COMPANIES AND ALLIES
A Transition Guide clearly specifies who is responsible. Note: the trans* person determines the pace and whether an action should be implemented. Every transition is individual
Enable name and pronoun changes before the official decision is made.
Training sensitize HR and management
Establish and strengthen an internal LGBTIQ network with dedicated trans contact persons
Inform about the topic trans*
Use gender inclusive language, ask for a person's pronouns so they use the one chosen by the trans* person and not their deadname. Deadname is the old, discarded name of a trans* person.
Only ask questions that you would answer yourself
Consciously stand up for the rights and against the discrimination of trans* persons
advice centers
BUNDESVERBAND TRANS*
"The Bundesverband Trans* (BVT) sees itself as a federation of individuals, groups, associations, federations and initiatives at regional, state and national level whose common endeavor is the commitment to gender diversity and self-determination and the commitment to human rights in terms of respect, recognition, equality, social participation and health of trans persons or persons not located in the binary gender system."
DEUTSCHE GESELLSCHAFT FÜR TRANSIDENTITÄT UND INTERSEXUALITÄT E.V.
"The dgti has set itself the goal of promoting the acceptance of transidents within society and counteracting their stigmatization. It should advise and support those affected and interested, if this is desired. An essential aspect of the work should be the (re-)integration of affected persons into the work process, in order to counteract the danger of social decline, which is still associated with social change today. It advocates more openness to one's own identity and takes into account the diversity of human existence."
TRANSMANN E.V.
"Nationwide, volunteer-based, non-profit association for all woman-to-male (FzM/FtM) trans* and inter* people."
TRANSINTERQUEER E.V.
"TrIQ is a social center and a politically, culturally and in the research field active association, which stands up for trans, intersex and queer living people in Berlin and beyond."
TRANS*INTER*BERATUNGSSTELLE
"The project of the Münchner Aids-Hilfe e.V. is equally there for trans* and inter* people as well as their relatives and friends."
TGEU
"TGEU is a membership-based organization that was founded in 2005. Since then, TGEU has steadily grown and established itself as a legitimate voice for the trans* community in Europe and Central Asia, with 157 member organizations in 47 different countries."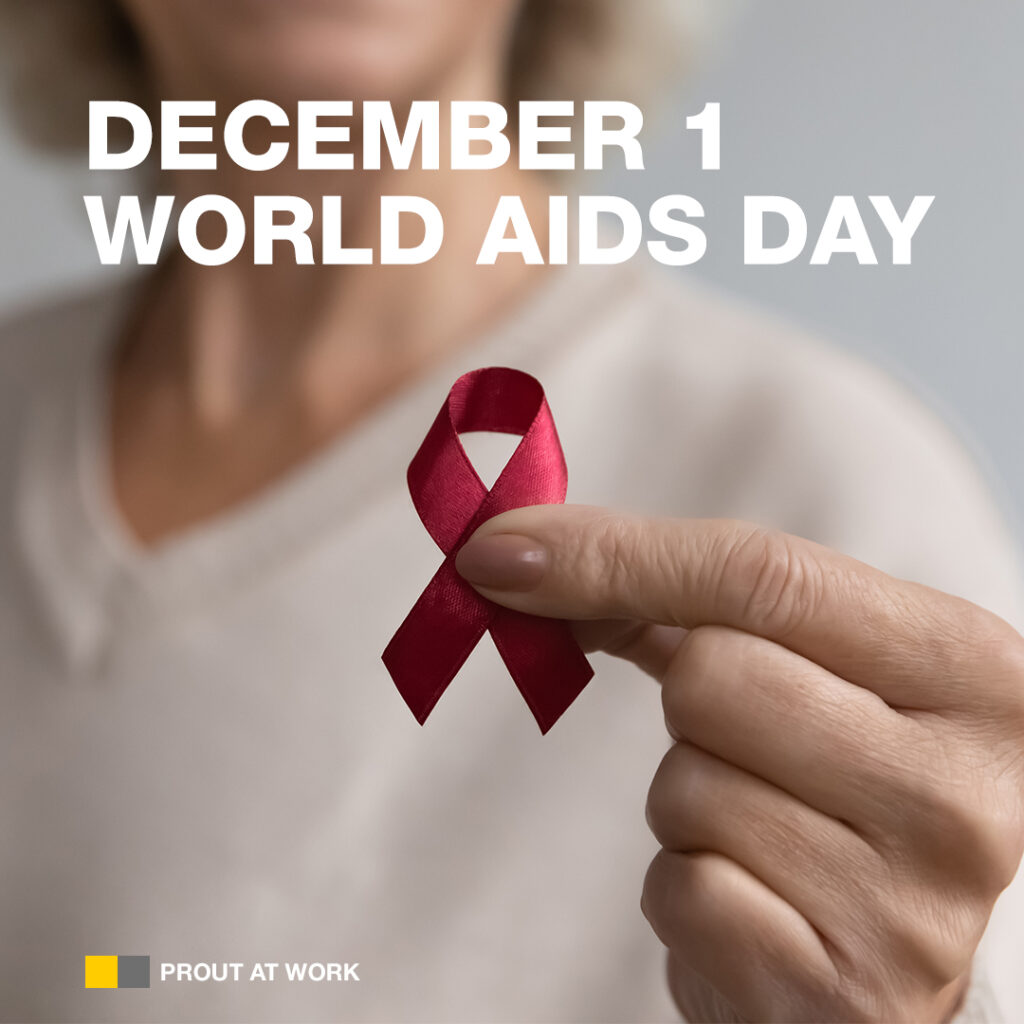 December 1 marks World AIDS Day, which has aimed to eliminate the stigma surrounding HIV and AIDS, affirm the rights of affected individuals, and create visibility for people who have died as a result of HIV and AIDS, since 1988.
About 38 million people worldwide are HIV positive, but almost all of them have no access to essential medication. The numbers of people affected vary from country to country. In South Africa, the most affected group includes young women, as well as disadvantaged or persecuted groups in many other countries, such as gay men, intravenous drug users, sex workers, and people in prison. However, all over the world, people experience discrimination in their daily lives.
Undetectable = Untransmittable
Nowadays, however, a HIV diagnosis is no longer a death sentence for those affected, because with the right treatment, HIV-positive people can live a life like anyone else. In addition, by taking medication, the reproduction of the HIV virus can be suppressed to such an extent that those affected can no longer transmit the virus during sex.
This year, the World AIDS Day takes place under the motto "Equalize" and should overall create a common togetherness, completely free of prejudice and exclusion and thus achieve prevention of spreading HIV.
Employers can also take a stand against discrimination against people living with HIV and AIDS and overcome existing inequalities in the workplace. For this purpose, the declaration #positivarbeiten was created in 2019, which has already been signed by more than 155 companies, associations, cities, ministries and businesses.
Moving critical Masses
Let's take action together to advance LGBT*IQ issues.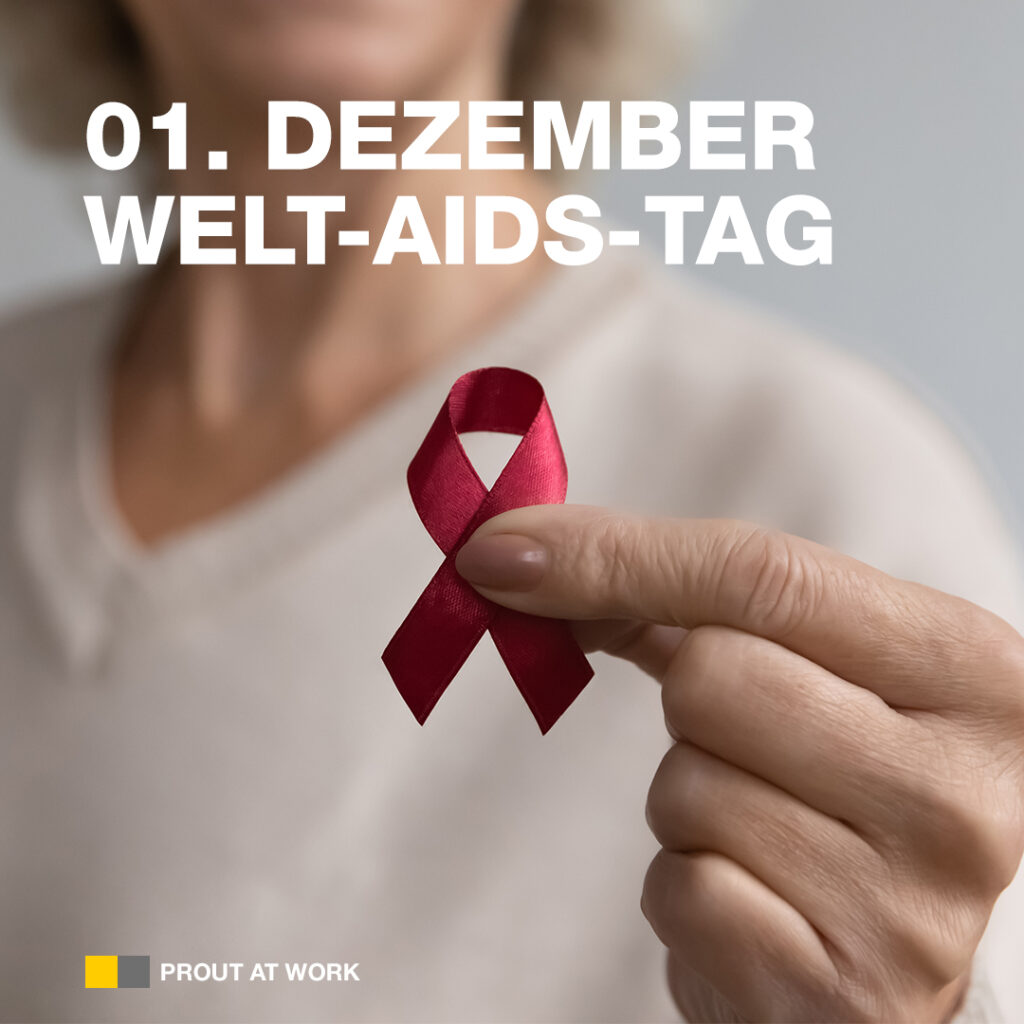 Nicht nachweisbar = Nicht übertragbar
Heutzutage ist eine HIV-Diagnose für Betroffene kein Todesurteil mehr, denn mit der entsprechenden Behandlung können HIV-positive Personen ein Leben führen wie jede_r andere auch. Zudem kann durch die Einnahme von Medikamenten die Reproduktion des HIV-Virus soweit stabil unterdrückt werden, dass Betroffene auch beim Sex das Virus nicht mehr übertragen.
Dieses Jahr findet der Welt-Aids-Tag unter dem Motto "Equalize" (deutsch: Ungleichheiten beenden; gleichstellen) statt und soll vor allem ein gemeinsames Miteinander, ganz frei von Vorurteilen sowie Ausgrenzung schaffen und betonen, dass soziale Ungleichheiten die HIV-Epidemie verstärken.
Auch Arbeitgeber_innen können sich gegen die Diskriminierung von HIV- und AIDS-Betroffener stark machen und somit herrschende Ungleichheiten am Arbeitsplatz beseitigen. Zu diesem Zweck wurde 2019 die Deklaration #positivarbeiten ins Leben gerufen, welche schon von mehr als 155 Unternehmen, Verbände, Städte, Ministerien und Betriebe unterzeichnet wurde.
Moving critical Masses
Let's take action together to advance LGBT*IQ issues.